JPSS Call for Papers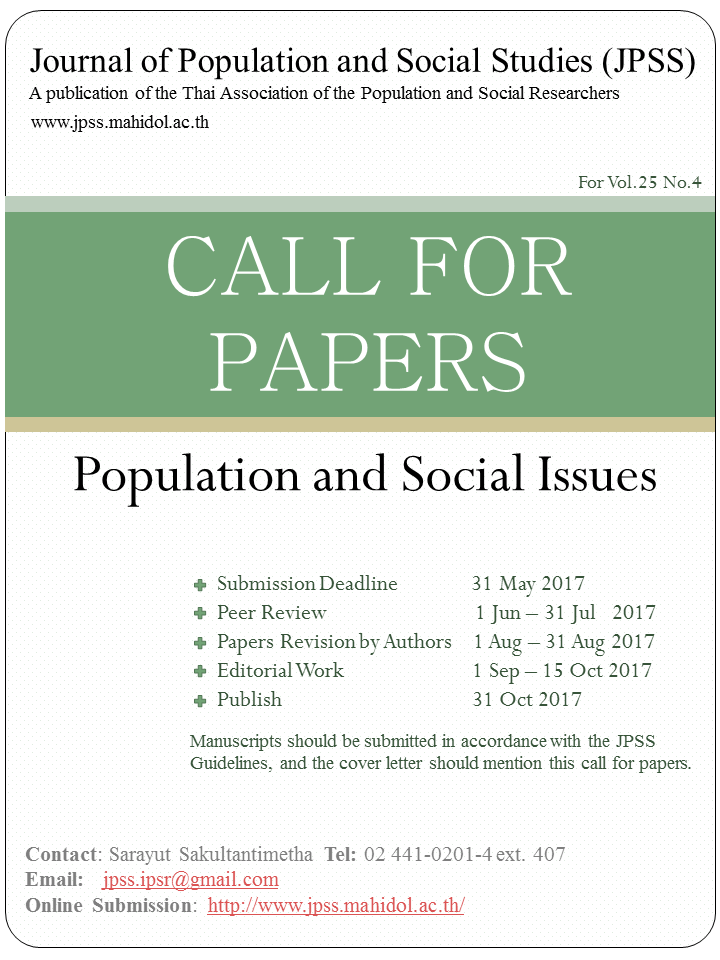 The Journal of Population and Social Studies (JPSS) is inviting you to submit review articles, original researches or research papers to be published on The Journal of Population and Social Studies in October 2017, under the theme of Population and Social Issues.
Submission deadline: May 31, 2017
The papers should be submitted online via www.jpss.mahidol.ac.th
The title of submitted papers must indicate "V25N4"
General Guide for Authors:
Manuscripts to JPSS should be formatted for standard paper (A4), with 1 inch margins on all sides.
Manuscript must be done in Word document, using Times New Roman, font size 12 dpi, double spacing. This applies to the abstract, main text, quotations and references.
Length of the manuscript should not exceed 8,000 words (about 25 pages). Avoid using footnotes, endnotes or appendices unless absolutely necessary.
For detailed guidelines, please seehttp://www.jpss.mahidol.ac.th/
Important Date:
31 May 2017 Submission Deadline
1 June – 31 July 2017 Peer reviewed
1-31 August 2017 Revision by Authors
1 September – 15 October 2017 Editorial works
31 Ocotober 2017 Publish